Services at Bennett Centre
The services provided at every Long Term Care home in Ontario are regulated by the Ministry of Health & Long Term Care. They are designed to help ensure that residents of Long Term Care homes receive safe, consistent, high-quality, and resident-centered care. Staffing and funding levels at Long Term Care homes are set by the Ministry of Health & Long Term Care.
Services include:
24/7 nursing and personal care
Medical care
Foot care
Supplies, equipment, and assistive devices such as wheelchairs, canes, walkers,
toilet aids and other self-help devices
Meal service and snacks
Social, recreation and physical activities and programs
Rehabilitative services
Behaviour management support through Behaviour Support Ontario (BSO)
Laundry
Bedding and linen
Housekeeping
Any other services required under the long-term care legislation.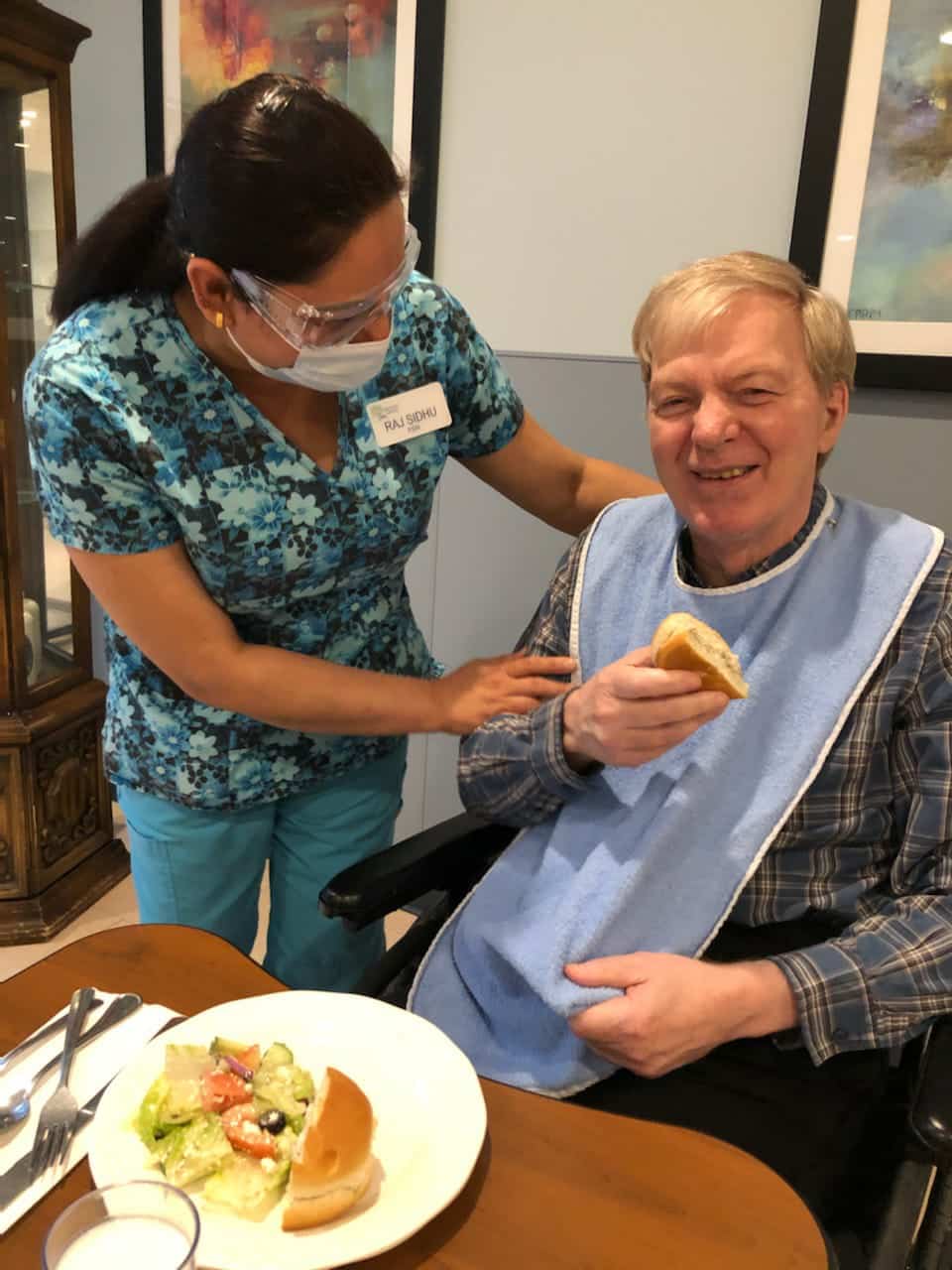 A good meal and good company can add joy to anyone's day. At Bennett Centre, we endeavor to make our meals a pleasant dining experience for both our residents' taste buds and their spirits. Attractive, tasty and nutritious meals served in our Dining Rooms are prepared in our own kitchen. Seasonal menus offer daily choices and provide variety, plus meet the nutritional needs of the residents in accordance with the physician's orders. Friends and family are welcome to join residents for a meal with a little notice.
We are pleased to have recently added the Mijava digital menu app, to our food services process.  This app will make food ordering more accessible for all residents, offering a more efficient process.
Sample Breakfast Menu
Orange juice, Coffee, Tea
Hard-Boiled Egg
Oatmeal with Brown Sugar
Assorted Cold Cereals
Raisin Toast or Whole Wheat Toast with Margarine, Jelly/Jam or Peanut Butter Banana
Sample Lunch Menu
Assortment of Juices, Coffee, Tea
Tomato Rice Soup with Crackers
Turkey Pot Pie with Gravy
Green Beans
Whole Wheat Bread with Margarine
Or
Pastrami Sandwich on Rye Bread
Garden Salad
Chilled Tropical Fruit or Tapioca Pudding
Sample Dinner Menu
Assortment of Juices, Coffee, Tea
Roasted Vegetable Lasagna
Greek Salad
Garlic Bread
Or
Braised Veal Tips
Roasted Potatoes
Winter Vegetables
Whole Wheat Break with Margarine
Buttertart Square or Mango